Late in the summer, Mrs. Ballinger had decided to ask her nieces and nephews for a Christmas house party. It was a mixture of duty and business that had prompted her. She knew she would not see much of them in the winter -- and then, one of the nephews, John Ballinger, liked puttering around with tools and always did a great deal of free repair work for her.

One evening, a week before Christmas, she sat down in the great, draughty old living room with a pad and pencil and began solemnly to make out her list of guests.

(The Black-Headed Pins, 1938)

.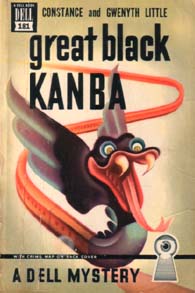 Christmas time is the time I dig out my Little sister mysteries. There's something about that cozy blend of vintage murder and madcap comedy that goes well with the crackling fire and iced Pimm's Cup. Now that I think of it, it was during one of those Christmas Pasts that I read my first Little sister mystery, The Black-Headed Pins -- coincidentally, all about murder stalking a snowed-in house party.
Never heard of the mystery writing team known as the Little sisters? You're in for a treat. Australian - born Constance and Gwenyth Little, were popular mystery writers back in the Thirties and Forties. Of the 21 mysteries they wrote together, all but one have the word "black" in the title. They titled their first collaboration, The Grey Mist Murder; perhaps the "grey" in the title symbolizes a sort of tentativeness with this initial effort. Legend has it that they did all their writing in bed. (Though not the same bed -- each was married.) Generally Connie (the elder) whipped up the plot and did the rough drafts. Gwenyth handled the final rewrite and polishing. I suppose the idea of this sisterly collaboration fascinates me, being involved in artistic collaboration with my own sisters (although ours is a musical rather than literary endeavor).
Originally it appears that the sisters used the pen name "Conyth," which is one way of removing the individual ego out of the creative equation. This was apparently at the request of their publisher, but one has to wonder about ego in any creative partnership. And sisters especially, I think, grow up struggling to carve out their own domain in the family hierarchy. Perhaps this attempt to seamlessly meld egos is one reason the Littles never developed a distinct writing "voice." Although it is easy enough to recognize a Little sister mystery simply by its parabolic embellishments, stylistically nothing really stands out in the writing. It's good, solid writing, but it is not singular in phraseology or wording.
Modern readers seem to value the Little sisters primarily for the humor that characterizes their mysteries. Zany characters, witty dialog and ridiculous situations all typify the Little sister novel. But interestingly, the Littles were always classified as "Character and Atmosphere" under the old Crime Club reading guide, rather than "Humor and "Homicide." (Perhaps, compared to other comic writers of their day, they weren't that humorous -- it was, after all, the golden age of comic crime.)
The books are quite funny, with most of the characters displaying an insouciant attitude towards violent death, but the humor is often tinged with irony, and the plots are clever by any standard. The settings vary from standard sinister: boarding houses and isolated mansions, to the highly original: a passenger train on the Australian outback, a cruise ship, a nut house, etc. And the characters are unique. While the Little sisters may have had trouble finding their distinct writing "voice," their literary creations had no trouble speaking up.
.
Tim immediately shifted to the vacant seat beside Anne but kept a polite smile going for Liz. At the first opportunity -- which was created by Liz being obliged to pause for breath or strangle -- he whispered to Anne, "Darling, must you sit around and allow that big brute to murmur into your ear?"

"I don't know why not," Anne said tolerantly. "He doesn't spit when he murmurs."

"Precious!" Tim cried. "Don't be crude!"

Mr. Courtney threw a quieting glance around the room and announced, "I am waiting for someone to confess."

Everyone fell silent -- even including Liz.

(The Black Coat, 1948)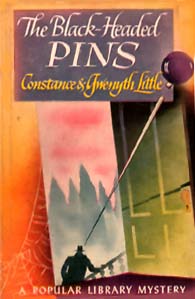 Though The Black-Headed Pins, their second novel, has its humorous moments, it closely adheres to the suspense formula established by Mary Roberts Rinehart (1876 – 1978) and her followers. With each novel, the Littles grew a little more confident and a little more, well, wacky. Ultimately they perfected their own madcap formula. The Great Black Kanba (1944) is a prime example of the Littles at their peak. However that very effective formula changed through the years. Both The Blackout (1951) and The Black Dream (1952) offer unexpectedly realistic depictions of mental illness and are (forgive the pun) darker. In these novels, too, the narrative switches from the usual first person of the heroine to a roving omniscient (even including the murderer's POV). Unfortunately, the Little sisters were nearing the end of their writing career. The Black Iris (1953) was to be their last published effort.

I accepted more tea and pink cake and quietly ground my teeth.

(The Great Black Kanba, 1944)

Supposedly television and the hard - boiled trend in crime and mystery fiction explain why the Littles fell out of favor with the reading public. But possibly the sisters in crime were moving in a direction less palatable to their audience -- and publisher. Or maybe the somewhat eccentric duo just got tired after 21 books, and decide to amuse themselves in other ways. They were enthusiastic travelers (making three trips around the world at a time when trips around the world were generally the realm of explorers and adventurers).
Like so many of these once enormously popular writers of the past, there seems to be very little known about them, and little analysis of their writing.
Which reminds me. Did I say that the plots of the Little sister mysteries were "clever by any standard?" Actually, it's difficult to explain the plot of a Little sister novel. The complications are more in the way of stage trappings: zany characters, bizarre occurrences, and unorthodox clues including, always, the one big BLACK clue. Constance and Gwenyth created a kind of alternate reality where anything seems possible.
She had been so sure about that hand last night -- a man's hand -- cold and dead -- and this morning she had almost succeeded in convincing herself that it was all imagination. But
that man over there -- still reading his paper and sipping coffee -- that man had only one hand. The other was a hook.

The Black Coat, 1948
Several of the novels were written during WW II, and while the war does not actually function as a backdrop, it is always there as the ultimate black cloud: one more violent and unpredictable factor that can't be prevented and must be worked around.
"Work around it," is the basic theme of most Little sister novels, and would probably function as the official club motto of the Little Sisters' Little Sisters, were there such an organization.
And, come to think of it, smart girls "working around it" is very much the universal plot of most of the Little sister mystery novels -- or at least their most successful novels. An independent, smart - ass and resourceful girl is obliged, in her own interests, to solve a murder. Her own interests are always paramount to a Little sister heroine. The big difference between the Little heroine and other mystery heroines of the era is that her interests are generally more prosaic. Whereas many amateur sleuthing damsels of the Thirties and Forties were genuinely in distress and thus forced into action, the Little heroine is usually after a car or a job or a place to stay for the weekend. She may ultimately be accused of murder and her life may ultimately be endangered, but these are generally the consequences of poking her self - serving little nose into something she shouldn't.
Little sister heroines can be shop girls or heiresses, dancers or nurses -- or even doctors (towards the end), but they are never ordinary. A strong sense of humor, an iron self - reliance (whether warranted or not) and a willingness to take risks sets them apart from most of their fictional contemporaries. They value security and their creature comforts. They take chances. Sometimes those chances lead them into danger. It's hard to put your finger on it, but there is something quintessentially American about the feminine creations of world - travelers, Constance and Gwenyth.
.
"You Americans are born restless," said Clive. "I don't know how you stand going to bed at night and just lying there till morning."

The Great Black Kanba 1944
Speaking of Clive, there is always a man -- sometimes more than one -- in a Little sister mystery novel, though "romance" might not be the exact word for a Little heroine's relationship with the opposite sex. (They do get on with their fathers beautifully, however.)
Unlike many mystery novels of the same era, the heroine is the main sleuth; males are secondary figures and usually more of an obstacle to solving the murder. They function most vitally as a foil for the comic repartee, which is the trademark of the classic Little sister novel. Sometimes the heroine is on the rebound, but angst is never a big part of the picture. The reader can trust that our girl in black will get her man, both murderer and mate, with a minimum of fuss.
.
"Look here, Smithy, I've decided to propose to you I might go farther and do worse, you know -- and it's time I settled down."

"All right," I said cheerfully. "I accept. I don't know about settling down, or doing worse, but I do need five meals a day."

The Black-Headed Pins, 1938.
The Rue Morgue Press has recently begun reprinting the Little novels, so modern audiences can discover and enjoy the work of these sinister siblings. My personal favorites are The Black Coat, The Black Eye and The Great Black Kanba, but I'm not yet an expert on the Little sisters. I've only read 11 of their 21 novels, and only recently discovered that they may have written short stories as well. This guarantees several years - worth of terrific stocking stuffers!
And now back to the crackling fire, the chilled and spicey Pimms, and page three of The Black-Headed Pins.
Oh, and have yourself a merry Little murder!

THE SHORT STORIES OF THE LITTLE SISTERS
"Dark Corridor" (August 1940, The American Magazine)

THE NOVELS OF THE LITTLE SISTERS
The Grey Mist Murders (1938)..Buy this book

The Black-Headed Pins (1938)...Buy this book

The Black Gloves (1939)...Buy this book

Black Corridors (1940)...Buy this book

The Black Paw (1941)...Buy this book

The Black Shrouds (1941)...Buy this book

The Black Thumb (1942)...Buy this book

The Black Rustle (1943; AKA "The Black Lady")

The Black Honeymoon (1944)...Buy this book

Great Black Kanba (1944; AKA "The Black Express")...Buy this book

The Black Eye (1945)...Buy this book

The Black Stocking (1946)...Buy this book

The Black Goatee (1947)

The Black Coat (1948)...Buy this book

The Black Piano (1948)

The Black House (1950)

The Black Smith (1950)

The Blackout (1951)

The Black Dream (1952)

The Black Curl (1953)

The Black Iris (1953)