Nancy placed a detaining hand on his wrist.

'No, wait a moment," she whispered. "I am certain I've heard those voices before. I must learn who is in that room!'
The Mystery of the Brass Bound Trunk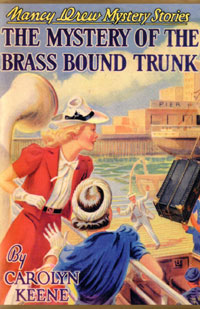 Nancy Drew was not the first female sleuth -she was not even the first girl detective -- that honor most likely goes to Anna Katherine Green's Violet Strange. But Nancy has become synonymous with girl sleuths and female amateur detectives worldwide. There are plenty of scholarly theories as to why "that Drew girl" struck such a chord with her young readers -- a note that continues to reverberate through the decades.
Both hailed as a feminist role model and reviled as anti-feminist, a large part of Nancy's charm is that she is sheer female fantasy. Unlike other girls of her day and age (well, frankly, of any day and age) she has unlimited resources and very little parental interference. She's beautiful and smart and nosey. She has loyal chums and a cool car and a doting dad and great clothes and a cook/housekeeper/confidante. She doesn't have to waste time in school or doing chores (although she is only sixteen for most of her literary life). And as if all this wasn't more than enough, she can ride, shoot, fly planes, handle boats, and on occasion fell bad guys with a single chop.
As Craig and Cadogan point out in The Lady Investigates, "Nancy has never had to waste time wishing she were a boy; for all practical purposes she is."
Actually, she's better than a boy because she can cook and she understands all about hostess gifts!
At that moment a deafening crash of thunder interrupted the conversation, while a gale of wind heralded the approach of a heavy summer storm. Nancy smiled.

The Password to Larkspur Lane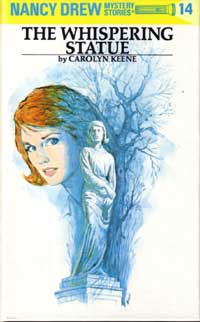 In The Mystery of Nancy Drew, Betsy Caprio, thoroughly psychoanalyzing our heroine, focuses on a Jungian spiritual and psychological identification with the archetypal virgin goddess. (Or, as Kevin Burton Smith of the Thrilling Detective Website, puts it, "Nancy taps into that inner Doris Day -- the perky competent super virgin thing.")
Caprio also goes into the less healthy aspects of Nancy's psyche or what she calls the "Problem of the Invisible Shadow." Nancy does tend to put herself and her friends repeatedly in harm's way; she's relentless, fiercely competitive, ruthlessly optimistic…obsessive.
True. All true. And this is why we respect her. We love her for a whole other host of reasons that have to do with having the guts to enter secret passages; the ability to decipher puzzling clues, the strength to pick herself up after she's been conked over the head; that insatiable curiosity for…well, for everything!
Oh sure, Nancy has her flaws. And not everything works out for her-just look at that drip Ned Nickerson! But Nancy has something every girl-let's face it, every woman aspires to: unassailable poise. She's confident! She has the confidence of queens basking in successful world conquest. Nothing shakes her. Nothing embarrasses her. Oh, she gets angry when she's unjustly imprisoned or someone mistreats a puppy, but Nancy is never at a loss for what she's going to do next, and she never gives a darn about what anyone thinks of her. Her plans may go astray, the police may chuckle at her temporary setbacks, but what does she care? She knows that success is ultimately hers.
Nancy Drew doesn't have a self-conscious bone in her slim graceful body, and that's even better than an inexhaustible supply of fresh frocks and sport dresses. What normal self-conscious and insecure adolescent girl wouldn't envy that comforting confidence and reassuring poise? Never mind the slim graceful body.
Is Nancy successful because she believes in herself, or does she believe in herself because she's so successful?
Tellingly, Caprio writes of her own fondness for the books and their…well, therapeutic effect, "I justified the mushrooming expenditure on these irresistible books as a healthy escape. I needed to balance the hours spent in the locked wards of the hospital! Even my little car seemed to be in on the search for Nancys: I would leave work planning to go straight home, only to find it taking me down a side-street to make just one more visit to a used bookstore. I began to feel like Nancy, out sleuthing in her roadster, tracking down clues."
There is something about Nancy Drew. No doubt about it.
"'In Twenty minutes!' Miss Owens gasped, glancing at her watch. 'Oh, it isn't possible!'

'Yes, it is,' Nancy insisted firmly, 'but there's not a second to waste! We must act!'"
The first Nancy Drew novel I ever read was The Message in the Hollow Oak. It was a gift from my mother on my tenth birthday. I read it that night when I went to bed (wearing my new flowered nightie which matched my new yellow quilted robe) and was riveted by Nancy's adventures in northern Canada (talk about foreshadowing!). Still, I have to admit that as much as I loved the story-and the subsequent stories (especially The Secret of Shadow Ranch and The Mystery at Lilac Inn), I was even more in love with the titles and the covers. The books themselves were just a little simplistic and…well, bloodless. But the titles promised so much more, and the covers promised everything. They were like half-remembered dreams or the stories you make up for yourself.
In fact, they made me want to write mysteries.
(Actually, they made me want to live mysteries, but I outgrew that -- partly due to the fact that I feared getting knocked over the head and that's clearly part of the job description -- I settled for merely writing them.)
Speaking of the writing, much has been made of the real life mystery of who actually wrote the Nancy Drew novels. Bobbie Ann Mason touches on this in The Girl Sleuth and Melanie Rehak delves further in Girl Sleuth Nancy Drew and the Women Who Created Her.
One thing is for certain: the original Nancy Drews were inarguably better written than the revised versions.
For example, here's the original opening from The Whispering Statue:
Nancy Drew, her hands thrust deeply in her sweater pockets, paused in front of the Marvin residence. She gave a soft call. Almost at once the door flew open and two girls came outside. One was Bess Marvin, the other a girl cousin of Bess named George Fayne.

'Am I late?' Nancy inquired as her chums joined her. 'I hurried as fast as I could but everything seemed to delay me.'"
And here's the Nancy For Dummies version.
'Nancy, you're kidding. No statue can whisper!'

A twinkle came into Nancy Drew's blue eyes. She tossed back her reddish gold hair (it's not even titian anymore, because apparently modern girls are too dumb to look unfamiliar words up in dictionaries) and looked at the slender athletic girl standing in front of her. 'George, the statue I'm talking about used to whisper before it disappeared.'
Granted, if you've grown up reading the revised novels, you may have fond memories of them, but I recommend checking out Applewood Books and their gorgeous reprints of the original editions (including artwork).
'Girls,' she said some time later, 'will you do a little sleuthing for me?'
The Mystery of the Brass Bound Trunk
As for happy, upper-class and ladylike Nancy's (and our) fascination with crime and bringing evil-doers to justice, I can't speak to her motives, but you have to respect a girl who does everything the tough guys do -- but in high heels.
For more info, including some terrific cover scans and tidbits, check out http://www.nancydrewsleuth.com/
THE NANCY DREW NOVELS
Although I believe the titles now number over a hundred, here's a listing of the "original" Nancy Drew Mystery Stories by Carolyn Keene (the Stratemeyer Syndicate Pseudonym). In fact, the novels were written by Mildred Wirt (1-7, 11-25, 30); Walter Karig (8-10); George Waller (26); Margaret Scherf (27); Harriet Stratemeyer Adams (31, 33, 35-56); and a cast of thousands.
1: The Secret of the Old Clock (1930)

2: The Hidden Staircase (1930)

3: The Bungalow Mystery (1930)

4: The Mystery at Lilac Inn (1930)

5: The Secret of Shadow Ranch (1931)

6: The Secret of Red Gate Farm (1931)

7: The Clue in the Diary (1932)

8: Nancy's Mysterious Letter (1932)

9: The Sign of the Twisted Candles (1933)

10: The Password to Larkspur Lane (1933)

11: The Clue of the Broken Locket (1934)

12: The Message in the Hollow Oak (1935)

13: The Mystery of the Ivory Charm (1936)

14: The Whispering Statue (1937)

15: The Haunted Bridge (1937)

16: The Clue of the Tapping Heels (1939)

17: The Mystery of the Brass-Bound Trunk (1940)

18: Mystery of the Moss-Covered Mansion (1941)

19: The Quest of the Missing Map (1942)

20: The Clue in the Jewel Box (1943)

21: The Secret in the Old Attic (1944)

22: The Clue in the Crumbling Wall (1945)

23: The Mystery of the Tolling Bell (1946)

24: The Clue in the Old Album (1947)

25: Ghost of Blackwood Hall (1948)

26: The Clue of the Leaning Chimney (1949)

27: The Secret of the Wooden Lady (1950)

28: The Clue of the Black Keys (1951)

29: The Mystery at the Ski Jump (1952)

30: The Clue of the Velvet Mask (1953)

31: The Ringmaster's Secret (1953)

32: The Scarlet Slipper Mystery (1954)

33: The Witch Tree Symbol (1955)

34: The Hidden Window Mystery (1956)

35: The Haunted Showboat (1957)

36: The Secret of the Golden Pavilion (1959)

37: The Clue in the Old Stagecoach (1960)

38: The Mystery of the Fire Dragon (1961)

39: The Clue of the Dancing Puppet (1962)

40: The Moonstone Castle Mystery (1963)

41: The Clue of the Whistling Bagpipes (1964)

42: The Phantom of Pine Hill (1965)

43: The Mystery of the 99: Steps (1966)

44: The Clue in the Crossword Cipher (1967)

45: The Spider Sapphire Mystery (1968)

46: The Invisible Intruder (1969)

47: The Mysterious Mannequin (1970)

48: The Crooked Banister (1971)

49: The Secret of Mirror Bay (1972)

50: The Double Jinx Mystery (1974)

51: Mystery of the Glowing Eye (1974)

52: The Secret of the Forgotten City (1975)

53: The Sky Phantom (1976)

54: Strange Message in the Parchment (1977)

55: Mystery of Crocodile Island (1978)

56: The Thirteenth Pearl (1979)