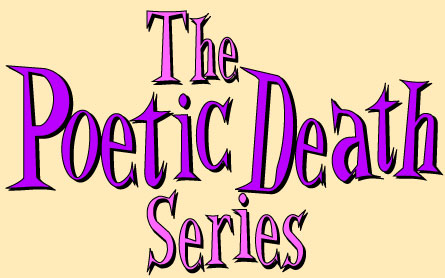 By Diana Killian
---
The Poetic Death Series revolve around the on-going adventures of a thirty-something American school teacher visiting the English Lake District. Grace Hollister is a woman who prides herself on her common sense and her well-organized life, a woman who would always choose to splurge on books before Blahniks—well, most of the time. She does have that secret yen for the bad boys of Romantic poetry…
A great deal of research goes into the series, both on the English Lake District and on the poetry and personalities of the Romantics, but these books are not intended to be weighty tomes of erudite research. The plan was—and is—to combine adventure and mystery (and yes, a bit of romance) with my own passion for literature. I wanted to seduce readers who might not otherwise check out these marvelous works and writers, into taking a peek. I've tried to cram each book with intriguing tidbits, the kind of thing that would interest non-academics too, as well as snippets of poesy. (By the way, each novel begins with a prolog death scene of the book's featured Romantic poet—hence the series name.)
Essentially about an ordinary everywoman involved in extraordinary circumstances…again and again and again. Naturally Grace's adventures change her (I think for the better), though some readers will find her a slow learner. (Surely by now she should have noticed that the village of Innisdale is a VERY dangerous place to live.) I have a lot of fun with the series, and I hope you will too!..
Grace Notes Blog
The Private Journals of Grace Hollister
Travel notes, recipes, poems -- and things Grace would never say aloud.
The Books
The Adventures of Grace Hollister
Now Available...
Docketful of Poesy
The fourth book in the Poetic Death series
Perseverance Press, Spring 2009
Buy this book through Amazon
.Better yet, buy it through your favorite indie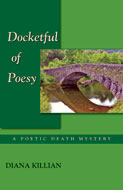 "'Theater of the Absurd' takes on a whole new meaning when former high school teacher and literary scholar Grace Hollister is hired as a script doctor for a straight-to-cable film production of her own academic exploits. Although the film's budget seems boundless, almost no one in the cast or crew seems to have any experience making movies. It would almost be comical in a Woody Allen sort of way?until history repeats itself for real, and it's curtains for one of the cast."
"Killian's entertaining fourth mystery to feature Grace Hollister (after 2006's Sonnet of the Sphinx) takes the literary scholar from Los Angeles to England's Lake District, where an adaptation of her memoir, Dangerous to Know, is being filmed for cable TV. After the movie's screenwriter dies in a hit-and-run in L.A., Grace gets hired as a script doctor. She shifts into gumshoe mode on the set after various mishaps, including an actor's poisoning. Might there be a link between the film company's woes and two armed men breaking into the shop of her lover, Peter Fox, a former jewel thief turned antiques dealer? When not busy researching her latest forgotten female poet, Grace investigates the film crew, finding more questions than answers. Meanwhile, misunderstandings between Grace and Peter, as well as a certain local police detective in love with Grace, threaten their relationship. Series fans will eagerly await further developments in the next installment. (Publisher's Weekly)

"It's a plot that moves along at a good speed, making for good reading. Throw in some very interesting characters, a background of the Lake District and an author with charm and wit and you can't go wrong.'
(Book Loon Reviews)

"To mix metaphors here, reading Docketful of Poesy is like walking in on the middle of what seems to be a very good movie. It's really a wonderful story, with everything a mystery fan would want: a suspicious death, a beautiful setting, endearing characters, witty banter, an unexpected link between disparate events, a tentative (or maybe not so tentative) romance. And yet there's a sense that the reader has missed something, that the book would have been so much more meaningful, more enjoyable, had the first three books, or any of the previous books, been read before this one. It's not that enough background material wasn't presented; it's just that there seems to be inside information simmering beneath the surface that first time readers aren't cognizant of. On balance, Docketful of Poesy is a terrific mystery, but readers familiar with the earlier exploits of Grace Hollister will probably like it even more."
(Hidden Staircase Mystery Books)

"Fans of Elizabeth Peter's Vicky Bliss series will enjoy the antics and characters both on and off the movie set, as well as the historical information related to female poets of the Romatic era."
(MyShelf.com)
Can't wait? Read an excerpt here.


Sonnet of the Sphinx
The third book in the Poetic Death series
Pocket Books, April 2006
Buy this book through Amazon
.Better yet, buy it through your favorite indie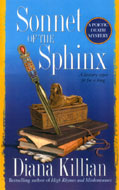 Engimatic love interest Peter Fox's past comes back to haunt him. Meanwhile Grace is on the hunt for a lost sonnet by Romantic poet Percy Shelley and the solution to dashing World War II soldier's disappearance...
"Author Diana Killian seems well aware of the limitations of this sleepy genre, but goes full speed ahead anyway, enlivening things with her own brand of electricity. Armed only with talent, an obvious affection for her characters, and a very strong story-telling gene, she has fashioned another entertaining mystery in her "Poetic Death" series which will definitely keep you up reading late into the spooky night."
(Yvette Banek for Mystery Ink)

"This cozy mystery stays true to the genre, offering readers a clever plot and interesting characters. The literary references and brief quotes from poems adds a delightful touch of class, while the love interest between Grace and Peter warms the pages with a pleasant tingle. Although a sequel, this story can stand alone, thanks to the background information that is smoothly slipped into the narrative.Lyrical, yet with the perfect dash of lethal, Sonnet of the Sphinx is an engaging and well written mystery."
(In the Library Reviews)

"The back story in Sonnet of the Sphinx is fascinating and illustrates Killian's notable ability to interleave literary fact into a novel of fiction.
The ending comes as something of a surprise though in retrospect it shouldn't have been since Killian cleverly interjects telling clues throughout. The epilogue serves as a cliffhanger of sorts. Will there be a fourth Poetic Death mystery? If so, will it take place in Cumbria? And where is Grace's increasingly complex relationship with the mysterious Peter Fox heading? Another literary adventure with Grace Hollister would certainly help resolve these undecided issues."
(Hidden Staircase Mystery Books)

" In Sonnet of the Sphinx, Killian maintains the high quality of writing praised by critics in her earlier works. She manages to maintain the action of the plot, create empathetic characters, realistic settings and intriguing mysteries, while still including substantial literary information about the Lake Poets. She manages to integrate this research so well, that the pacing of the plot is unaffected."
(Janelle Martin for Gather.com)
Read an excerpt here.
OTHER EDITIONS:
Large Print (Hardcover)
ISBN: 1-007-862-8949-X

Verse of the Vampyre

The second book in the Poetic Death series

Pocket Books, September 2004
Buy this book though Amazon

Better yet, buy it through your favorite indie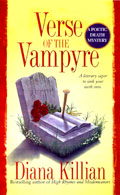 Now working on her sabbatical Grace becomes a kind of technical advisor to a local theatrical production of a play called The Vampyre, a really awful play based on a snippet of story by Lord Byron. Right on schedule mysterious accidents begin to plague the players, and it's only a matter of time before one of the cast falls victim.
"Even if you don't usually care for cozies, this light satire on the genre is fun and a fast read. The characters are engaging, as well as the situations."
(Barbara Franchi, Reviewing the Evidence)
"The second in the series stands well on its own. Vivid description of a fox hunt makes the reader feel as though she were in the thick of the action, no matter how she feels about this controversial sport, while references to vampire literature and the literary figures of Byron, Shelley and others of that era give the novel extra depth and richness and puts it above the typical amateur sleuth mystery."
(Roberta Austin, Murder and Mayhem Bookclub)
Read an excerpt here.
OTHER EDITIONS:
Large Print (Hardcover)
Digital (Microsoft Reader)
Digital (Abobe Acrobat)
High Rhymes and Misdemeanors
The first book in the Poetic Death series
Pocket Books, October 2003
Buy this book through Amazon
Better yet, buy it through your favorite indie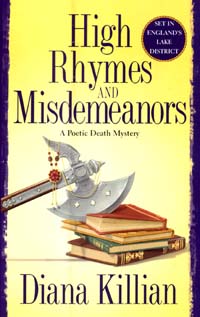 Grace Hollister is vacationing (under guise of researching her dissertation on the Romantic poets) in the English Lake District when she stumbles upon her first (but not her last) body in High Rhymes and Misdemeanors. Before long she's involved in kidnapping, murder, and the hunt for what she firmly believes is a lost work by Lord Byron. She also becomes involved—against her better judgment—with former jewel thief (now semi-law-abiding antiques dealer) Peter Fox.
"Light, charming... An entertaining romp through a beautiful part of Britain.
(Dallas Morning News)
Read an excerpt here.
OTHER EDITIONS
The Mystery Guild Book Club Edition (hardcover)

Subscribe to Diana Killian's Official Newsletter